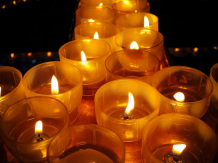 Having a Spiritual life can lead to better stress management, faster recovery from depression, anxiety and addiction, and better relationships. Why is this? Because it gives people a sense of purpose and meaning and enhanced stress management skills.
What is spirituality? It can be your faith, your religion, or how you worship God or a Higher Power. Or it can be what you hold most dear, what brings you joy, hope and peace, or your community. It is very personal and people express Spirituality in many different ways.
Many of my clients with anxiety or sexual issues have trouble letting go of control. Spirituality can help people give up needing to control because they have faith that things will work out. Spirituality helps with grieving and depression in part because it connects people to a community and supportive network. In his book "7 Principles for Making Marriage Work," John Gottman discusses how one major Principle is developing a sense of purpose and meaning together as a couple. Couples who do this tend to stay together in the long run.
Bringing Spirituality into the bedroom... Find ways to bring your spirituality into the bedroom. If you pray, pray before or after sex (to yourself or with your partner). I've had clients say a prayer to themselves during sex to help them stay calm and connected. If you meditate, meditate on the kind of sex you want to have (want hot, more connected sex?). If music gives you peace and a sense of groundedness, play some music to get you in the mood. Create a moment of meeting with your partner (this can be very spiritual) by slowing things down and gazing into each others eyes while touching. So, ask yourself.."Do I have a spiritual life? If so, am I exploring it/practicing it to the fullest?" and "How can I/we bring spirituality into our sex life?"