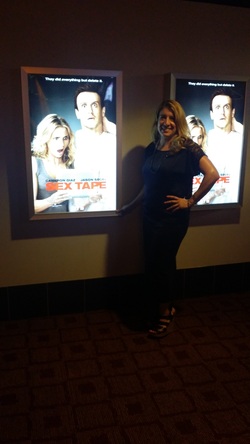 On Wednesday, July 9th, I had the privilege
of hosting an advanced screening for the movie, "Sex Tape," starring Cameron Diaz and Jason Segal, at the new Arclight Cinema in La Jolla. After the movie I did a Q & A and shared my "Top 10 Tips for Re-igniting the Flame in Your Relationship."
"Sex Tape" is about a late 30's couple who are struggling to get the passion back in their relationship (2 kids, 2 careers, lots of stress, no sleep - you get the point). They make a sex tape to spice things up but it accidentally gets uploaded to "the cloud." What I loved about the movie (it was hilarious!) was that it does a great job of depicting the sexual rut most couples experience when they are overloaded with stress and responsibilities. So many of my couples struggle with this issue. Let me share 3 ways you can re-ignite the flame in your relationship:

1) Self-regulate: Take care of and manage your own emotions. Out-of-control emotions are not sexy! And if you can't regulate your anxiety how will you tolerate discussing sexual desires or sexual issues?

2) Push your limits: Be willing to take risks, try novel things, push outside of your comfort zone. Remember the hot sex you had in the beginning of your relationship? Well, it wasn't because it was comfortable! It was exciting and uninhibited. Safety and comfort do not equal hot sex!

3) Take care of yourself: Practice overall wellness. Exercise. Sleep. Eat well. Set limits at work and with your electronic devices (put them down!). Get therapy to address any issues that may be interfering with your sex life or relationship.
On a final note, if you're having challenges in your sexual relationship, your relationship in general, or the passion has died don't wait to seek out the help of an experienced sex therapist. These experts can help you improve your relationship and sex life in a confidential environment. Feel free to email me at Jen@drjensandov.com or call (626) 590-9723 if you need help finding a
sex therapist, or if you'd like to set up a consultation with me.