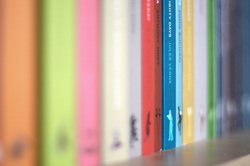 Del Mar Couple and Sex Therapy Blog by me, Dr. Jennifer Sandoval is up and running! I'm so excited and have so much to share!
I'm going to start with the basics. Whether you are a couple seeking to improve your relationship or a seasoned therapist there are two seminal books you must read. I also recommend these books for singles who want to be better in any relationship.
The first 2 books are by David Schnarch, Ph.D. (really, ANYTHING by Dr. Schnarch is incredible):
Passionate Marriage
and
Intimacy and Desire
. He focuses on one very key concept to revolutionizing the way you will be in relationships - DIFFERENTIATION. He also offers a unique definition/approach to INTIMACY. Dr. Schnarch knows relationships and sex - he will be awarded the 2013 American Psychological Association Award for Outstanding Contributions to Independent Practice at this year's APA convention. These books changed not only the way I do therapy but also how I am in relation to self and others. Check them out at:
http://desirebook.com/
and
http://passionatemarriage.com
The third book I highly recommend is John Gottman, Ph.D.'s
7 Principles of Making Marriage Work
. Dr. Gottman is a couple therapy researcher, clinician and Guru! He has been studying and working with couples since the '70's to see what happy, stable couples in committed relationships are doing right. He is also behavioral so there are easy to understand and easy to follow exercises to improve your relationship. Check it out at
http://www.gottman.com/57329/558737/Books-DVDs-and-Workshops/Seven-Principles-for-Making-Marriage-Work.html
Think of this as great springtime reading! And I'd love to hear what you think.
Take care, Dr. Sandoval